Our Animals Life Story - Sea Lions in the Bahamas!
DOLPHIN ENCOUNTERS ON BLUE LAGOON ISLAND BECOMES PERMANENT HOME FOR SIX KATRINA DISPLACED SEA LIONS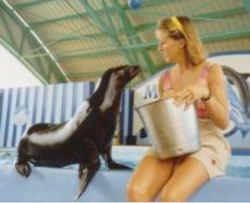 Animals Reunited With Former Trainer
After surviving Hurricane Katrina and the destruction of their former home and sea lion habitat at Marine Life Oceanarium in Gulfport, Mississippi just over one year ago, six California Sea Lions (five females and one male) joined the marine mammal family at Dolphin Encounters on Blue Lagoon Island.
The sea lions arrived by private charter transport from Sea World Orlando where they had been living and generously been taken care of post-Katrina. They were transported by boat from Nassau to Blue Lagoon Island where they were introduced to their new all-natural ocean habitat and join the other Bahamas animal life.
Having all been born under human care, this is the first time the animals have ever been in an ocean environment. The sea lion habitat at Dolphin Encounters is extremely large and far exceeds all international requirements.
"The transport went really well," said Kim Terrell, Marine Mammal Director for Dolphin Encounters for ten years. "I am so happy to report that all six of the animals are comfortable, eating, swimming and relaxing in their new habitat. In fact, to watch their behaviour, you would think they have lived here all their lives."
The animals will spend the next several weeks familiarizing themselves with their new ocean habitat and trainers. The process should be an easier one given the reunion with Kim Terrell.
Ms. Terrell, who transported the animals and is currently overseeing their care in their new sea lion habitat, is a native Mississippian. The former Director of Training at Marine Life Oceanarium and Marine Animal Productions for fifteen years, was a trainer for several of the sea lions she is now reunited with. Ms. Terrell flew to Orlando and worked with the animals for several weeks prior to their transport to Dolphin Encounters.
It has been an emotional journey for both the animals and their former trainer who closely followed their progress throughout the storm from Nassau.
"I was completely devastated by what happened in Gulfport, Mississippi – my home – by Hurricane Katrina," said Ms. Terrell. "My family, friends and animals I knew and loved were affected. I had raised, worked with and certainly knew most of the dolphins and sea lions, and it was terrible watching what was happening and talking to the trainers during and after the storm. If the animals were not going to be able to live in their old home, then I wanted to be sure that some of them would find homes with me and our team at Dolphin Encounters. I am so happy that they are now with us on Blue Lagoon Island."
"Kim Terrell was a great pleasure to have as an employee of Marine Animal Productions for 15 years," said majority owner of Marine Animal Productions at Marine Life Oceanarium, Donald J. Jacobs who worked with Ms. Terrell and Dolphin Encounters throughout the process to make the transition for the animals a safe and familiar one.
"It was a joy to witness her love, care and rapport with all of the dolphins and sea lions at our facility. It warms our heart that some of the Katrina sea lions will be back together with someone as wonderful as Kim. I am confident that the animals will feel the love that she has for them. The Meister family has demonstrated admirable consideration for me and I am sure that they will provide the best possible care to the sea lions in their new home."
"The entire team of management and staff at Dolphin Encounters are very proud to welcome the sea lions to our beloved marine mammal family," said Robert Meister, Managing Director of Dolphin Encounters. "The sea lions have been through quite an ordeal and will be greatly missed by their previous owners, trainers and caregivers. We take the responsibility of their care extremely seriously, as we do the care of our dolphin family.
Kim Terrell and PJ reunited at the facility on Blue Lagoon in 2006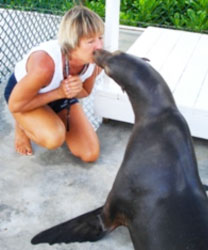 The animals are a symbol of a community that survived a catastrophic storm. It is our goal to provide them with a rewarding and enriching life – and it is our honour and privilege to do so."
"Indescribable is the only way I can say I feel about having these animals back in my life once again," continues Kim Terrell. "I am so happy that I, who was there at the beginning of some of their lives, and our company Dolphin Encounters, are able to provide the animals with a wonderful home. I am also so proud to know that the sea lions will receive the same excellent care that all of our dolphin family receives. It is also a wonderful opportunity for Bahamians to learn about and meet another marine mammal species."
Some of the sea lions, like their dolphin friends at Dolphin Encounters on Blue Lagoon Island, are also movie stars. Torey became famous portraying Andre in the movie Andre starring alongside Keith Carridine and Tina Majorino. Kalika and PJ also had parts in the movie. Two of the mentioned sea lions along with Murray starred in the movie Slappy and The Stinkers and were also featured in an ad for Reynolds Wrap.
Since 1989, Dolphin Encounters, located on idyllic Blue Lagoon Island just three miles off Nassau, has offered visitors from around the world a unique opportunity to interact with enchanting Atlantic Bottlenose dolphins, including the internationally famous 'Flipper.'
Home to 18 dolphins ranging in age from two new born calves to 39 years-old, Blue Lagoon is a private island that served as the location for the beach scenes in the hit movie 'Splash.' Its natural seawater reserve provides the marine mammals with a rich and healthy living environment while affording guests an exceptionally intimate and safe space for their encounter.
Kim Terrell with all six Sea Lions in their new facility at Dolphin Encounters, Blue Lagoon Island
Visitors are inevitably thrilled by their time with the dolphins, but the mission at Dolphin Encounters is not only to provide entertainment — it's also about education. From its earliest days, the facility has offered a multitude of free programs to schools and underprivileged children to inform Bahamian teachers and students about Bahamas animal life, marine life and the importance of protecting our environment.
A non-profit element of the marine park, Dolphin Encounters Project B.E.A.C.H. (Bahamas Education Association for Cetacean Health) was developed in close consultation with the Bahamas Department of Education, the National Science Teachers Association and BREEF (Bahamas Reef Environment Educational Foundation). To date, thousands of local students and teachers have benefited from its innovative, on-site and classroom programs.
In 2003, Dolphin Encounters and Project B.E.A.C.H. received the prestigious Cacique Award, the Bahamas Ministry of Tourism's highest honour for excellence in tourism.
The facility has also made the lifetime dream of many children come true by participating in the Make-A-Wish Foundation program.
Dolphin Encounters is a member of the International Marine Animal Trainers Association, the largest organisation of its kind.
In 1997, the facility was accepted into the prestigious Alliance of Marine Mammal Parks and Aquariums, and in 2004 became an accredited member of the group, confirming its status as one of the top marine parks in the world.