Spacious New Dining Pavilion On One Of The Bahamas Finest Landmarks
---
BLUE LAGOON ISLAND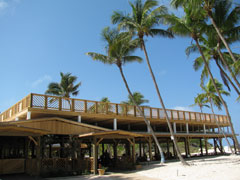 Providing our guests with an unforgettable experience, the best of service and top amenities is always our goal at one of the Bahamas finest landmarks, Dolphin Encounters on Blue Lagoon Island. We have been very busy since last Fall and now proudly announce the opening of our new dining pavilion. This fantastic pavilion provides a cool shady place to dine comfortably island style! The top deck offers extraordinary sea views as guests sit in the shade of coconut palm trees.
"We are really happy with the addition of the dining pavilion," said Robert Meister, Managing Director of Dolphin Encounters. "We wanted the space to reflect our Bahamian island style and it does, it is all wood, with beautiful views, and picnic tables for dining. Our island is all about relaxing and the pavilion certainly invites everyone to do just that."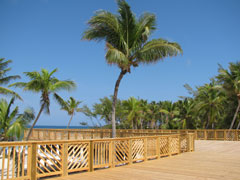 The new space on the Bahamas historic landmark is also larger and is perfect for hosting special events, weddings and private parties. The top deck especially provides a setting unlike any other in Nassau. A spectacular private island that is close to Paradise Island but the views are simply ocean and beaches – there are no hotels or buildings surrounding it. At night you dine with the stars.
"The reaction we have received from everyone has been extremely positive," added Mr. Meister. "We have already booked private functions and several weddings and it is the perfect spot for anyone looking for a romantic private island setting. We can accommodate large groups or small intimate parties. The space is very flexible and can be extremely casual or elegant to meet any request. Best of all our guests can enjoy it every day."
For more information about Blue Lagoon Island visit www.bahamasbluelagoon.com, and Dolphin Encounters visit www.dolphinencounters.com, call 242-363-7150 (general inquiries) or 242-363-1003 (reservations). Blue Lagoon Beach Day may not be available on certain days. Fans can join us on Facebook as Dolphin Encounters and follow us on Twitter at DolphinEncountr.

What Sets Dolphin Encounters on Blue Lagoon Apart!
No one knows what's best at this beautiful Bahamas landmark better than our staff, who work every day on this beautiful island. We asked them to let you know what you shouldn't miss on your next trip to Blue Lagoon Island.
Click here to enjoy!