Our Sea Lion Family is Growing! Meet Jack and Bonny!
---
BLUE LAGOON ISLAND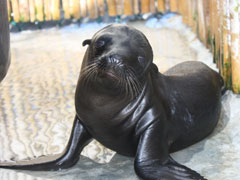 We are proud to introduce the two newest members of our sea lion family. Calico Jack, Jack for short, was born to mother PJ and father Murray on June 6th, 2010. His sister, Anne Bonny, Bonny for short, was born a week later on June 11, 2010 to mother Maggie (Magnolia) and father Murray.
Both sea lions now share names with two pirates that lived in New Providence and roamed the seas of The Bahamas and the Caribbean.
Calico Jack Rackham was an English pirate operating in the Caribbean area during the early 18th Century. His name derives from his practice of wearing colorful patchwork shirts made of printed calico fabric. Calico Jack is best remembered for his association with the Caribbean's two most famous female pirates, Anne Bonny and Mary Read.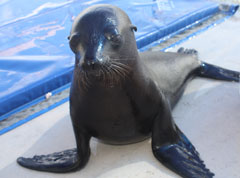 Calico Jack originally served as a quartermaster under another pirate, Charles Vane. When Vane decided to run from a battle with a much larger ship rather than fight, his crew became enraged. The crew members voted to relieve Vane from captaining and promote Jack Rackham in his place. In 1719, Jack Rackham decided to accept a pirate amnesty offered by Woodes Rogers, the governor of New Providence in the Bahamas. Calico Jack may have intended to retire from the pirate life, but instead began an affair with Anne Bonny, the wife of a local sailor. When the romance was discovered and brought to the Governor by Anne's husband, Jack Rackham offered a divorce-by-purchase, which would have effectively ended the marriage and saved Anne from legal punishment. Anne, horrified that she could be bought and sold, and refusing to return to her husband, escaped aboard Calico's ship and probably convinced him to resume his piracy. She joined his ship dressed as a man and fought deftly alongside the men.
Calico Jack and Anne Bonny began preying on small merchant ships for plunder with some success. They are forever linked together in history.
Jack and Bonny are the second and third California sea lions born in The Bahamas. Their brother, Milo, was the first born two years ago at Dolphin Encounters. Milo continues to charm guests with his playful personality and he loves to learn new behaviours.
Our sweet little pups won't be plundering the seas but they will steal your hearts when you visit them at their beautiful all-natural sea lion habitat at Dolphin Encounters on Blue Lagoon Island.
Since 1989, Dolphin Encounters has offered visitors from around the world a unique opportunity to interact with friendly marine mammals in an unparalleled all-natural marine habitat. Home to Atlantic Bottlenose dolphins, including the internationally famous 'Flipper', as well as California Sea Lions which include the stars of the movie 'Andre', this leading attraction continues to set the standard for marine mammal interactive programs in the world.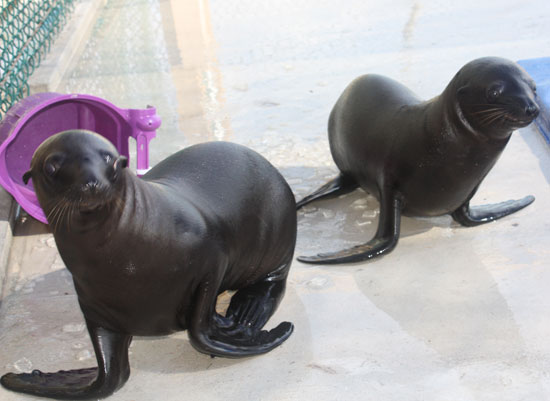 Jack and Bonny
For more information about Blue Lagoon Island visit www.bahamasbluelagoon.com, and Dolphin Encounters visit www.dolphinencounters.com, call 242-363-7150 (general inquiries) or 242-363-1003 (reservations). Blue Lagoon Beach Day may not be available on certain days. Fans can join us on Facebook as Dolphin Encounters and follow us on Twitter at DolphinEncountr.