NEW! Blue Lagoon Island Aqua Park makes Waves
---
BLUE LAGOON ISLAND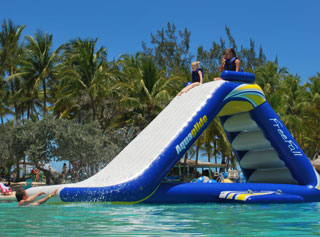 Dolphin Encounters on Blue Lagoon Island is proud to announce the newest addition to the Blue Lagoon Beach Day experience - The Inflatable Aqua Park! Visitors to Blue Lagoon Island can now enjoy our exciting large free-fall slide, in-water trampoline, and kids climb while swimming in the gorgeous lagoon beach for the day. The Aqua Park is the only one of its kind in The Bahamas, and both kids and adults can enjoy this in-water adventure.
The Inflatable Aqua Park is available to Blue Lagoon Island Beach Day and Dolphin Encounters guests, along with corporate and civic groups to enjoy. Guests can choose to splash around in the new Aqua Park during the morning or afternoon session or pay for all day access, where they can leave and return as they wish (a separate price is charged for Aqua Park access regardless of program). The Aqua Park joins our list of exciting activities offered on the lagoon beach. Guests can also rent snorkel gear for a snorkeling adventure in the lagoon; ride around in the island's clear bottom kayaks, super-sized aqua bikes or paddle boats. Guests are invited to take advantage of fun-filled eco-activities offered on Blue Lagoon Island such as the nature tour 'Blue Lagoon Tower Discovery Nature Tour', which allows guests to experience the intrigue of the flora, fauna and marine geology found on Blue Lagoon Island. Children also have access to buckets and shovels for play in the beach sand.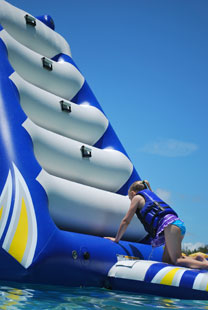 We invite everyone to jump into the Aqua Park for a refreshing and exciting day on the beach! Guests have described it as "Awesome!" Robert Meister, Managing Director of Dolphin Encounters shared these words on the opening of the Aqua Park, "We are really thrilled to have the aqua park for everyone to enjoy. We wanted to enhance the beach day experience by adding an exciting element to it. We hope that all visitors will enjoy it as much as ever." Due to the overwhelming initial success of the Aqua Park, we will be expanding it to include even more thrilling features, which will make for added excitement and relaxation to the Blue Lagoon Beach Day experience.
The Inflatable Aqua Park is the perfect add-on to a private island retreat for corporate, civic and church groups, team building, themed parties, off-site events or wedding ceremonies and receptions. Packages are customized to make any event exceptional and memorable. Special menu options, activities, and entertainment can be arranged for individual events hosted at this picturesque private island venue.
Blue Lagoon Island, also known by its official name Salt Cay, has been an interesting part of The Bahamas' history for centuries and is one of the most well-known of Nassau's natural attractions. Previously the stomping grounds of pirates who culled salt in the lagoon, the island has also been the vacation paradise for royalty, political figures, famous authors, and luminaries of screen, stage, music and sports throughout history. Now everyone can explore, relax and enjoy this beautiful island that has remained virtually untouched maintaining its lush natural beauty.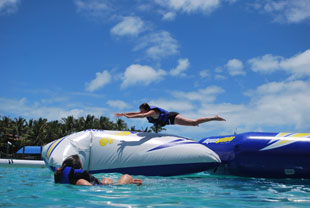 Dolphin Encounters Limited - Since 1989, Dolphin Encounters has offered visitors from around the world a unique opportunity to interact with friendly marine mammals in an unparalleled all-natural marine habitat. Home to Atlantic Bottlenose dolphins, including the internationally famous 'Flipper', as well as California Sea Lions which include the stars of the movie 'Andre', this leading attraction continues to set the standard for marine mammal interactive programs in the world.
For more information about Blue Lagoon Island visit www.bahamasbluelagoon.com, and Dolphin Encounters visit www.dolphinencounters.com, call 242-363-7150 (general inquiries) or 242-363-1003 (reservations). Blue Lagoon Beach Day may not be available on certain days. Fans can join us on Facebook as Dolphin Encounters and follow us on Twitter at DolphinEncountr.