FOUR TONS OF TRASH REMOVED FROM BONEFISH POND NATIONAL PARK DURING INTERNATIONAL COASTAL CLEANUP DAY
Hundreds of Volunteers Throughout The Bahamas Participate In Worldwide Event
---
NASSAU, BAHAMAS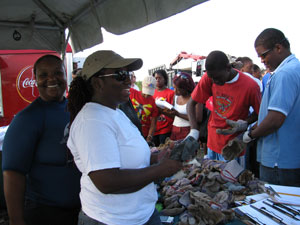 Hundreds of volunteers from all walks of life throughout The Bahamas turned out in a team effort to participate in International Coastal Cleanup Day. To date, this global initiative has helped remove over 100 million pounds of marine litter from over 170,000 miles of coasts since it began 24 years ago. In New Providence, several hundred volunteers met at Bonefish Pond National Park removing four tons of debris from this important wetland site.
International Coastal Cleanup Day is the world's largest one-day volunteer event created to prevent and eliminate pollution of the marine environment. This year, volunteers in New Providence, Abaco, Grand Bahama, and Eleuthera turned out to clean-up their respective beaches and wetlands. The event, which began as a local program in Texas, has gradually expanded to include every major body of water in the world in over 100 countries, including The Bahamas.
"We are very encouraged by this year's tremendous participation in Nassau and the Family Islands. So many volunteers from the local community, corporate and civic organizations, students and concerned neighbours came out in force to help rid the our beaches and wetlands of vast amounts of trash," said Ranaldo Smith, education supervisor at Dolphin Encounters which is the National Coordinator of International Coastal Cleanup Day in The Bahamas. "In New Providence, we chose to clean up a wetland area in collaboration with the Bahamas National Trust to make a difference at Bonefish Pond National Park. Everybody was determined to clean and to make an impact both in Nassau and the Family Islands. We each had the same goal - take back our beaches and wetlands. We also sent the message that we don't want trash to destroy our environment. It took many people working together to make a real difference. We hope our efforts will be supported by all who use the beach and parks by putting trash in its place."
"The Bahamas National Trust has always supported and participated in International Cleanup Day in The Bahamas and we were pleased that Bonefish Pond National Park was chosen as the site for New Providence," said Janeen Bullard, Parks Planner and Community Officer of the Bahamas National Trust. "The volunteers made such an impact at the park which is an important marine nursery area for the island, providing a protective, nutrient rich habitat for juvenile stocks of fish, crawfish, and conch. Preserving and protecting our wetlands and beaches is critical to our way of life in The Bahamas. We thank everyone who participated in ridding the park of debris."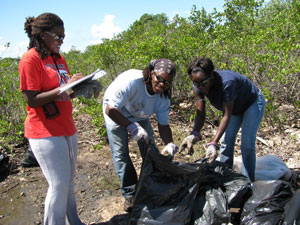 In New Providence volunteers combed the mangroves for five hours clearing the area of four tons of trash. The top ten debris items collected included construction materials, picnic items (cups, plates, knives, spoons), beverage cans, food wrappers and containers, plastic and glass beverage bottles, caps, lids, paper and plastic bags, cigarettes, shotgun shells and clothing.
A wide array of volunteers turned out in force to participate in New Providence including: Anchor Club; Boy's Brigade; B.R.E.E.F.; Department of Agriculture and Marine Resources; Dolphin Encounters; Environmental Pride Club; participants of the Governor General's Youth Award Program (GGYA); H.A.S.H.; the Indaba Project of the Grants Town Community Centre, Kirkland's Warbler Project; National Coastal Awareness Committee; Miss Earth Bahamas; Miss Teen Bahamas World; National Hash House Harrier; Rotary Nassau Sunrise Club, Track Road Theatre; members of the Bahamas National Trust; and the Ministry of the Environment. Local residents and many other volunteers from all over Nassau also participated in large numbers. Students from many schools that participated in the GGYA program or their environmental clubs took part in the clean up including students from: Albury Sayles Primary; Aquinas College; Christian Heritage School; College of the Bahamas Environmental Pride Club; C.V. Bethel Senior High School, H.O. Nash; Jordan Prince William School, L.W. Young, Queens College, Oakes Field Primary; St. Anne's High School; St. Andrews School – BREEF Club and Year Twelve; St. Augustine's College; St. Francis and Joseph, St John's College and YBMS.
The Beach Buddies programme, a year-round marine conservation field trip offered by Dolphin Encounters-Project B.E.A.C.H, was originally inspired by the ICC and designed with the guidelines from the Ocean Conservancy. After hours of cleaning up the mangroves, volunteers sorted their refuse by type and wrote down their findings on detailed data cards. The data cards will be submitted to the Ocean Conservancy to help them continue to track common types of litter and try to prevent these items from ending up on coasts in the future.
This year's sponsors for the New Providence event included: Caribbean Bottling Company - Coke, Aquapure Water Ltd., Bahamas Experience Tours, Bahamas National Trust, Bahamas Waste Ltd., Chelsea's Choice, Dolphin Encounters Ltd., Department of Environmental Health Services, Holiday Ice Ltd., Island Wholesale, Kelly's Home Centre, Leisure Tours, Ports International, Purity Bakery and T and K Trash Removal.
"Dumping big items and leaving trash is unfortunately an epidemic in The Bahamas and we have to work together to create change," said Walter Wells, CEO of the Caribbean Bottling Company (Bahamas) Ltd. which manufactures Coca-Cola products and was the major sponsor. Coke is the worldwide sponsor of International Coastal Cleanup Day. "Our company is committed to making a positive difference in our communities by redesigning the way we work and live so that sustainability is a part of everything we do – forever. We are pleased to sponsor International Coastal Cleanup Day and be a part of making a positive impact at Bonefish Pond National Park. Our marine environment is our most precious asset and we all need to work together to preserve and protect it."
Lorraine Arthur heard about the cleanup on the news and came out to participate. "I have heard about past cleanups and always wanted to come out and help and I am glad I did this year. I am a citizen who cares about our environment and keeping our island and the wetlands clean. I have never been to this park before, never knew it was here and it is beautiful. What if tourists want to explore the island, or see our nature and this beautiful park and saw this trash? Or a family wanted to come here and enjoy the beauty and have a meal together? Now they can thanks to everyone who came out. I hope it remains clean."
"I came out because Marine Biology is my major and this is important to me," said, Lydia Lochan. "What I found was garbage, cans, glass, plastic bottles, and Styrofoam. I think coastal awareness needs to be pushed more in the Bahamas because Bahamians don't know a great deal about preserving our environment and its important to have these type of activities and outreach to the community."
"This is an important event for our kids to participate in," said Denise Mortimer, the National Director of the Governor General's Youth Award Programme. "Part of their responsibility of being a member of the GGYA is to keep the environment clean. Young people take things for granted. By seeing the amount of debris out here today and learning about the destruction it causes to our natural resources, they learn the importance of keeping our environment clean."
"The International Coastal Cleanup engages people to remove trash and debris from the world's beaches and waterways, to identify the sources of debris, and to change the behaviours that cause pollution," added Ranaldo Smith of Dolphin Encounters – Project BEACH. "The event isn't just about pollution clean-up it's about pollution prevention. The event focuses on educating and empowering people to become a part of the marine debris solution. We thank each and every volunteer and sponsor that participated. As a coastal community keeping our ocean and waterways clean is vital to our environment and way of life. Together we can preserve our coasts."
Cleanups are still taking place in Abaco please contact Anita Knowles at Friends of the Environment at 242-367-2721, email her at anita@friendsoftheenvironment.org, or visit www.friendsoftheenvironment.org. Contact the Ministry of Tourism office in Eleuthera for more information regarding cleanups in Eleuthera. Dolphin Encounters – Project Beach holds beach clean ups throughout the year - contact Annette Dempsey at 363-7180 ext. 303 for more information. Or visit www.dolphinencounters.com. To learn more about International Coastal Cleanup Day visit www.oceanconservancy.org.
Top Ten Items Collected International Coastal Cleanup Day, 2009
Bonefish Pond National Park
Top Ten Debris Items Collected
Item

Total

Building Materials

(tiles, roofing materials, doors, wiring etc.)

980

Beverage Cans

875

Beverage Bottles (glass)

652

Beverage Bottles (plastic) 2 liters or less

564

Cars, Car Parts

416

Cups, Plates, Forks, Knives, Spoons

344

Shotgun Shells/ Wadding

297

Bags (paper)

285

Bags (Plastic)

237

Clothing, Shoes

224