STUDENT MARINE EDUCATION POSTER COMPETITION WINNERS HIGHLIGHT THE NEGATIVE EFFECTS OF INVASIVE SPECIES
Hundreds of Students Participate in the 9th Annual Dolphin Encounters – Project B.E.A.C.H. Marine Education Poster Competition
---
BLUE LAGOON ISLAND, BAHAMAS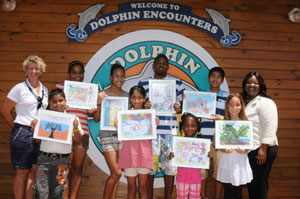 Over 450 students from schools throughout the Bahamas went head-to-head this year in the Dolphin Encounters' 2009 Marine Education Poster Competition. In the end, 12 students, including two Family Islanders, walked away with top honours at an award ceremony held on Blue Lagoon Island, a landmark of the Bahamas.
Hundreds of students logged on to Dolphin Encounters website to download applications for this year's contest, which featured the theme "Invasive Species – The Pirates of the Caribbean." Students were invited to learn about the negative effects of invasive species and create posters that reflected their thoughts and concerns. The competition, which is in its ninth year, was open to all students throughout the Bahamas from kindergarten through 12th grade and the winning entries were chosen by a panel of judges at a recent judging ceremony at Bahamas National Trust.
The winning entries were chosen by a panel of judges including Charlene Carey of the Bahamas Reef Environment Educational Foundation (BREEF); Janeen Bullard, Bahamas National Trust; Stacey Gray of the BEST Commission; Lakeshia Anderson of The Ministry of Agriculture and Marine Resources; Sharrah Moss, The Nature Conservancy; and Lorraine Cox of the BEST Commission.
The winners were recently recognized for their art during an award ceremony held by Dolphin Encounters at the Project BEACH education centre on Blue Lagoon Island in the Bahamas.
The winners of the four entry categories are:
K-2

1st La Tifia Payne See Saw Academy

2nd Saifuddin S. Rahimi St. John's College

3rd Johnny Bethel Man-O-War Primary School

3-5

1st Anju Bimal Xavier's Lower School

2nd Sacha Hussey St. Andrews School

3rd Ariannah Bain Summit Academy

6-8

1st Falon Williams St. Andrews School

2nd Enrico Rio Tambearly School

3rd Abel Abraham St. Paul's Methodist College

9-12

1st Franz Taylor Lyford Cay School

2nd Sophia Taylor Lyford Cay School

3rd Brianna Eccleston Lyford Cay School
First place winner in the 9-12th grade category, Franz Taylor, of Lyford Cay School, felt strongly about the message in his winning poster, "I have always been concerned about the negative effects of invasive species in our environment and my poster reflects that. I wanted to show that both our native plants and animals are being hurt by invasives and that we need to take action."
"My poster shows small native plants trying to grow under a Casuarina tree and they are saying "Casuarina Tree You Don't Grow On Me," said Sacha Hussey, of St Andrew's School, second place winner in the 3-5th grade category. "I painted the little plants trying to grow and the roots and needles of the Casuarina plant is stopping them. Invasive species hurt our native plants."
"It was very impressive to see the level of commitment so many children across our country have made to preserve our environment," said Robert Meister, Managing Director of Dolphin Encounters, a Bahamas landmark. "The children understand that their views on protecting our natural resources are important. We hope that as the community views their artwork, the student's messages will ring true and make a difference."
Each winner received a framed copy of their poster, a Dolphin Encounters – Project BEACH green bag and an award which were generously donated by marine-related vendors that depend on the health of the beautiful beaches and marine environment of the Bahamas. Sponsors include: Dolphin Encounters, Bahama Divers, Pirates of Nassau Museum, Blackbeard's Cay, Paradise Dive Charters, The Seahorse Catamaran, Island World, Powerboat Adventures, The Flying Cloud Charters, Barefoot Sailing and Stuart Cove's Aqua Adventures. The top three winners from each category also won free student memberships to the Bahamas National Trust and BREEF.
The winning posters have been laminated and continue to be posted throughout the community in recognition of the student's efforts to help preserve the oceans and its creatures. All winning posters can be viewed on www.dolphinencounters.com
DE – Project B.E.A.C.H., a non-profit element of the Dolphin Encounters facility located on Bahamas landmark Blue Lagoon Island, was developed to provide unique opportunities to Bahamian students and teachers for marine education and appreciation. Their education programs provide unique opportunities for marine education. The programs --- Beach Buddies, Marine Resource Seminar, Dolphin Adventure, Sea Lab, Sea Camp, Ocean Odyssey Camp, Aqua Explorers Camp, Student Internship Camp, Ocean Puppet Pals, Marine Assembly Program, Reef Rangers, and Project Green ---- have the full support of the following agencies: BREEF, The Bahamas Ministry of Tourism, The Bahamas Department of Fisheries and Wildlife, The Nature Conservancy, Bahamas Ministry of Education and The Bahamas National Pride Association.
The non-profit DE – Project B.E.A.C.H. programs are supported by donations of corporations and private citizens. To sponsor a program or to make a donation, please call Annette Dempsey at 242/394-2200. For more information about Dolphin Encounters please visit www.dolphinencounters.com or become a fan on Facebook.